If you've been on Instagram, Pinterest, or those luxury-focused home magazines, then you've probably noticed one major feature in the outdoor living space: curtains. Outdoor curtains can add both functionality and style to any outdoor space. Whether you're looking to add privacy, shade, or an extra layer of décor to your patio, pergola, or porch, outdoor curtains are a versatile solution that can work for all seasons.
Overall, they just instantly enhance a space and make it look so dreamy, too, something that your neighbors could easily envy. However, not all outdoor curtains are created equal, and selecting the right fabric for the season can make all the difference. You want to make sure that you're picking nothing but the best for your outdoor living space, so let's take a look at which fabrics work best for each season to help you create the perfect outdoor space for your needs.
What Materials Are Outdoor Curtain Typically Made of?
For the most part, you can count on outdoor curtains being made of various materials, similar to how indoor curtains are made from various materials. Since there are a fairly large variety of materials out there, some of them you can expect to see include:
● Outdoor linen fabric
● Outdoor jacquard fabric
● Nylon
● Polyester
● Acrylic
● Cotton
● Outdoor leathers
Does the Fabric Matter?
Absolutely, the fabric that you choose for your outdoor living space is going to matter greatly! There's a series of factors you'll need to consider when choosing your outdoor curtains and the fabric itself. Including
● The time of years when they're hanged
● Is the outdoor space enclosed (such as with a roof)?
● Is it exposed to all the elements?
● Do you expect direct sunlight in your space?
● How hot and humid is the location you're in?
● Does it rain frequently?
● How much time do you have to invest in maintenance?
While this is quite the list of considerations, the fabric is going to matter greatly, as you want something that has longevity. A great example would be natural fibers such as linen or cotton. They can't handle harsh UV rays too well, so they will be more prone to sun bleaching; they can't resist humidity too well, either. Overall, the fabric matters, so when you're shopping for high-quality outdoor curtains, you'll need to have a general idea of the fabrics available so you can select one that meets your needs the best. But let's take a deeper look into each fabric available.
What are the Most Popular Fabrics for Outdoor Curtains?
There are some fabrics that are more popular than others, and it's easy to see why. You want something that's going to last, but you also want it to beautify your outdoor space, all while keeping the harsh UV rays out of your sitting area. There are some very popular fabrics that homeowners rave over. So let's check them out!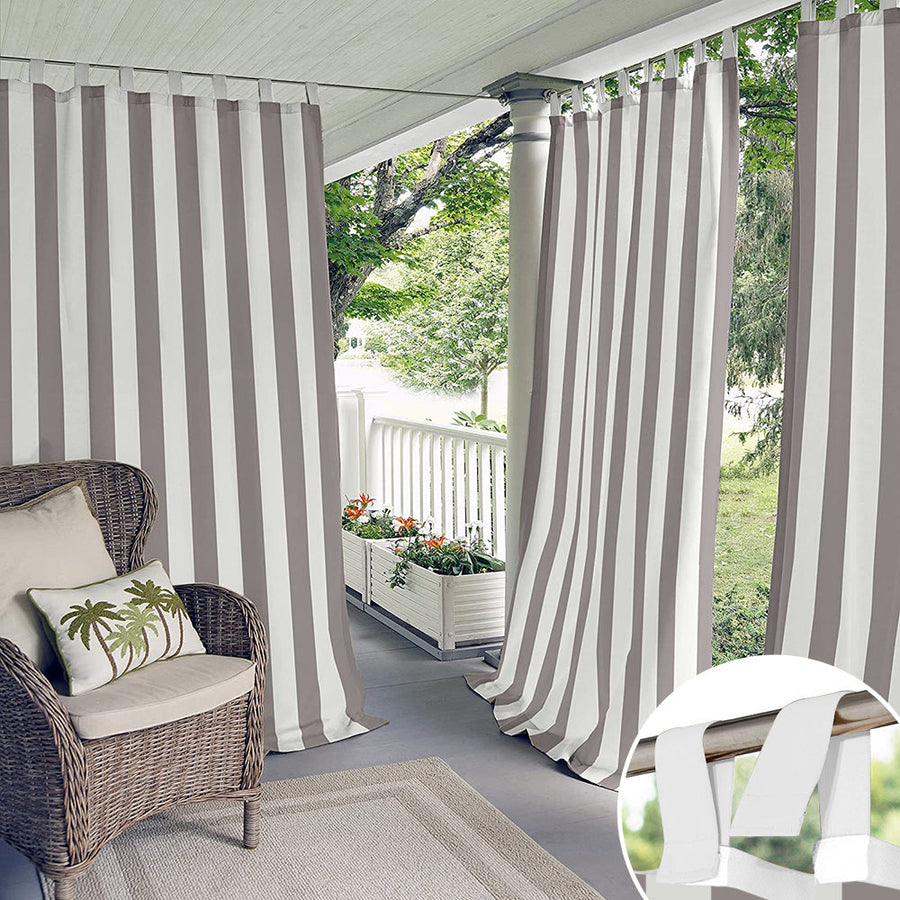 Polyester
You're probably familiar with this fabric since it's often in clothes, but it's actually pretty durable. It can withstand the elements and last for years. It also has properties that make it stain-resistant and easy to clean, which is great for a high-traffic area like your outdoor patio or deck.
Cotton
Cotton fabric is one of the most popular fabrics for outdoor curtains and drapes. It is lightweight and durable, making it ideal for creating privacy and shade in outdoor living spaces like patios, decks, pergolas, and gazebos. While it's very beautiful, this is strongly recommended for areas that deal with dry heat, as it can mold quickly.
Canvas
Canvas is a heavy-duty fabric that is used for making sails, tents, and other items that require a strong, durable material. It's getting more popular for parasols and sun shade sails as well, thanks to its resistance to the elements.
Acrylic
Acrylic fabrics are a popular choice for outdoor curtains because they resist sun fading. You can especially count on this not to be affected like sun bleaching like most other outdoor fabrics.
Outdoor Curtain Fabrics for Each Season
Are there certain fabrics that are better suited for certain seasons? For the most part, you can count on that. Outdoor curtains aren't a one-size-fits-all, as they all have different ways of handling the elements (if at all), and the same can be said about mold. Depending on the climate you're at, there may be outdoor curtain fabrics that could be better suited for some seasons than others. Let's take a look.
Spring and Summer: Lightweight Fabrics for Shade and Airflow
In the spring and summer months, the temperature can rise quickly, making it essential to choose fabrics that allow air to flow through and provide ample shade. Lightweight fabrics like cotton, linen, and sheer fabrics are perfect for this season. Cotton and linen are breathable, and they do have a way of making a space look gorgeous, especially when blowing in the wind.
However, if there is a lot of moisture in the air, it rains a lot, or if you're in an area where dry heat isn't prevalent, then you may want to skip over these lightweight fabrics as they don't do well with humidity, and tend to absorb a lot of water. So, as a result, they mold fairly quickly. Acrylic is a major go-to for outdoor curtain fabrics, and this heavy fabric is able to withstand harsh UV rays and humidity
Fall: Warm and Insulating Fabrics
While all locations will have various climates, the standard for fall is dropping temperatures and rain. If you're still wanting to use your outdoor area, then you'll need heavy fabrics that can handle being mold resistant, like our polyester heavy duty waterproof grommet outdoor curtains. Overall, fabrics like polyester and acrylic are also durable, weather-resistant, and great for insulation in outdoor spaces.
Winter: Heavy-Duty Fabrics for Insulation and Protection
For the most part, it's not entirely recommended to have outdoor curtains out during the winter months. The air tends to be very moist; there's a lot of rain, ice, and snow. On top of that, you could risk damaging your grommets. But if you're still wanting to enjoy the winter months outside, then you could look into thick fabrics. Ideally, you could use polyester, as this is a very strong fabric that's durable enough to handle harsh temperatures.